Medicaid places a lien against the estate of a nursing home resident, hoping to get back some of the money he paid.
We help clients reduce or eliminate the lien through proper planning.
Find Assistance When Planning for Long-Term Care
The high cost of nursing home care has made long-term planning a critical issue for nearly all middle-class seniors and their families. A senior's savings can be depleted very quickly, leading to financial crisis. One way to address this kind of concern is through proper Medicaid planning with the help of an experienced lawyer. The Law Office of Scott C. Painter, P.C. will leverage over 25 years of experience to assist you with your planning process!

Get the guidance you need to form a sound plan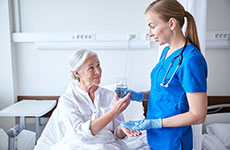 You may have to quickly place a senior loved one in a nursing home. Even with little notice, there are last-minute Medicaid planning tools to help you protect some of the senior's assets or to create protection for a healthy spouse. It is important that you seek legal help, because certain asset or property moves may imperil your right to Medicaid coverage.
How can a lawyer help you plan?
The cost of hiring an attorney is far less than the possible cost of paying for long-term nursing home care. A skilled elder law attorney will help you get peace of mind knowing that your loved one is provided for, while helping you craft an economical plan that won't burden your family.