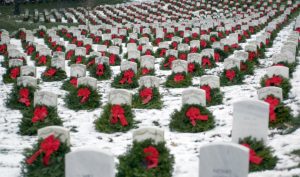 The Reading / Berks County area is a very patriotic area. We believe America's departed veterans deserve the honor they earned in serving our country and defending our freedoms. Even if we don't personally know those who served, military veterans have always been one unit, one body, throughout history. It is fitting that we honor them all, even if it means honoring one.
REMEMBER
our fallen U.S. veterans.
HONOR
those who serve.
TEACH
your children the value of freedom.
Those simple words define the mission of WREATHS across AMERICA, informally founded in 1992, when Morrill Worcester, owner of Worcester Wreath Company of Harrington, Maine, had a surplus of wreaths during the holiday season. Having visited Arlington National Cemetery as a 12-year-old newspaper carrier, he wanted to honor the country's veterans. With the aid of Maine Senator Olympia Snowe, arrangements were made for the wreaths to be placed at Arlington in one of the older sections of the cemetery that had been receiving fewer visitors with each passing year.
The annual tribute went on quietly for several years, until 2005, when a photo of the stones at Arlington, adorned with wreaths and covered in snow, circulated around the internet. Suddenly, the project received national attention. Thousands of requests poured in from all over the country from people wanting to help with Arlington, to emulate the Arlington project at their National and State cemeteries, or to simply share their stories and thank Morrill Worcester for honoring our nation's heroes.
Wreaths Across America also conducts several programs to honor our veterans, including the popular "Thanks a Million" campaign which distributes cards to people all over the country to give veterans a simple "thank you" for their service. WAA participates in veterans' events throughout the year, and has a veteran liaison on staff to work with local veterans organizations.
WAA is committed to teaching younger generations about the value of their freedoms, and the importance of honoring those who sacrificed so much to protect those freedoms. The organization offers learning tools, interactive media projects, and opportunities for youth groups to participate in the events. They also work to create opportunities to connect "the Greatest Generation" with the "Generation of Hope", passing on inspirational stories from World War II veterans to the leaders of the future.
Learn more about WAA at their site: wreathsacrossamerica.org/.
The law office of elder law attorney Scott C. Painter, P.C., is located in Wyomissing (outside of Reading, PA, in Berks County,) and offers trusted legal services in the areas of elder law, including nursing home planning, trust and estate services, and Veterans Benefits. Scott C. Painter is a Certified Elder Law Attorney (CELA®), and he is also a member of the National Association of Elder Law Attorneys (NAELA).
If you have an issue or question, we encourage you to call us. With legal matters, time is of the essence. Call us for a consultation at 610-378-5140. The $300 consultation fee is waived if Attorney Painter is retained to perform services.